This is something new that I've decided to start, since I don't regularly update the main page with an event. Plus, coverage of events that we've been to take up a good amount of my time, especially since school is my main priority right now.
With that being said, I've decided to implement a picture of the month idea. The picture (or pictures) of the month will generally consist of something unique that I've done or been able to participate in with the team, be it an event or an outing that we all attend together. A new photo or series of photos will be up every month, unless there is a major event that I cover for that month like Import Reactor or Import Face Off. This allows the main page to be somewhat consistently updated, so that not everyone is simply reading the same old articles that I've written in the past.
Since this is the first month that I'm starting this new idea, I've decided to include some photos of my recent trip to Dallas this past weekend for the 3rd Anniversary Cupcake Meet flyer photoshoot.
My stay in Dallas was only going to consist of staying Friday night and leaving Saturday evening. Tony Walls was kind enough to offer his residence for my stay that evening.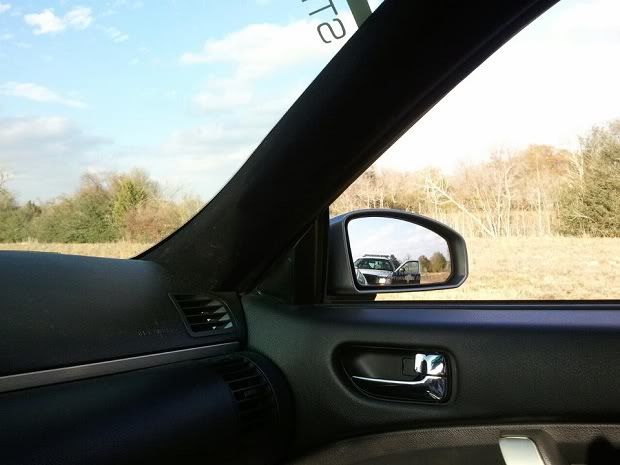 On the way to Dallas, I got stopped by Highway Patrol due to my speed. I guess 75 in a 70 warranted a stop. Luckily, he let me go with a warning citation for my speed and no front license plate.
After washing my car and gassing up at QuikTrip, Tony and myself decided to get some food at Freebirds and watch Underworld: Awakening, before retiring for the evening at his house.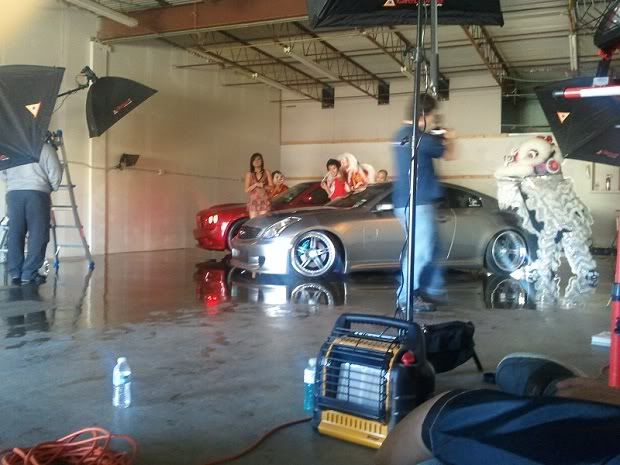 The morning of the shoot at DreamCars.com's studio in Dallas. The shoot began at 10:00 AM and didn't end until about 6:00 PM.
Including my car, there were 4 cars for the shoot in total: Porsche GT3, Rossion Q1, and Dodge Charger. The model participating in the shoot was Leyna Tran.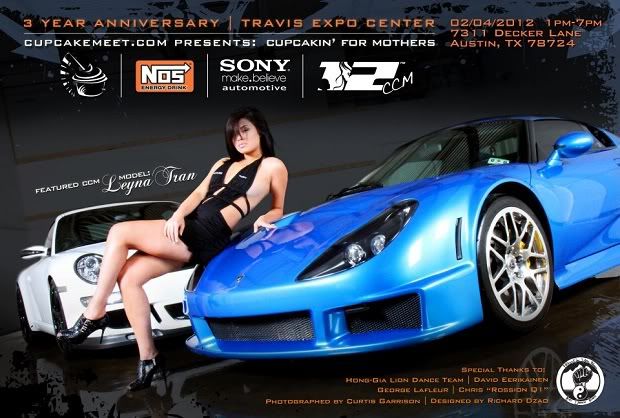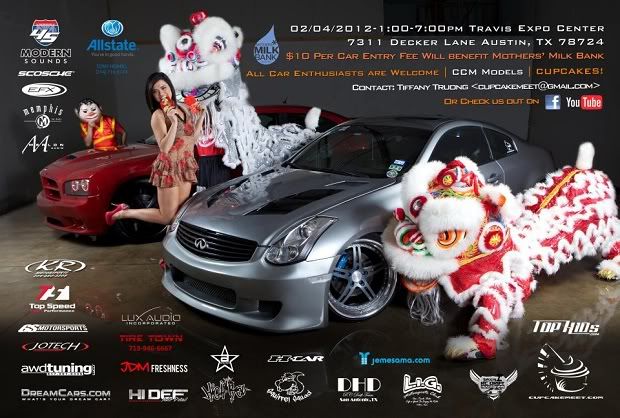 And after 8 hours of shooting, repositioning, lighting, and test shots, these are the final two images for the flyer.
I would personally like to thank the CCM Staff for allowing me to participate in their event. I had a lot of fun being a part of it.
After participating in the shoot, I now have a new understanding and appreciation when it comes to professional photography as well as all the prep and post work that goes into capturing our machines at just the right angle with the right amount of light.