This year has come to an end and I take this time to reflect on what's happened since I've been invited to be part of the team. I've been a part of Strictly G's for a little over a year and looking back, I've seen how much we've all grown not only as a team, but as a family throughout the year.

It's been a long road for a lot of us. But the journeys this year have been incredible and I've had the opportunity to meet some great people and form relationships that I'll carry on for a long time.
Be prepared, a long read awaits you.
The journey that I've embarked with on this team is long, but memorable. I was invited back in February 2010 to be a part of a growing foundation of enthusiasts and at the beginning stages, had some slight road blocks in the way that prevented the team from really establishing what it has become today. Over the course of that summer, I've had the opportunity to really understand and bond with everyone.
Gabe and Anthony would be the first two people that I meet. And who would have originally fathomed that a craigslist ad consisting of Anthony's X02 exhaust would eventually lead the three of us to become the "3 Amigos" today. Sure, initial encounters weren't that smooth and words were spoken behind people's back, but the initial connection of friendship and brotherhood is undeniable.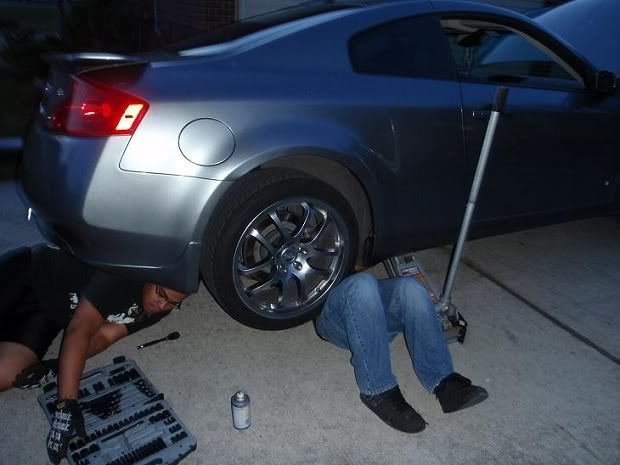 ------------------------------------------------------------------------------
Gabe's vehicle has transitioned from the plain, stock OEM look with black painted wheels to the sporty, yet aggressive, look that she has with her today. OEM painted wheels with H&R springs have been completely swapped out for 3 different sets of wheels (within ths year alone!) and full coilover set up, along with the sound system, body kit, and many other mods that adorn his car.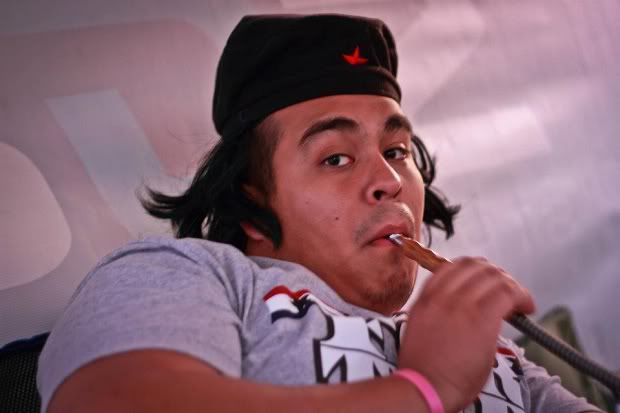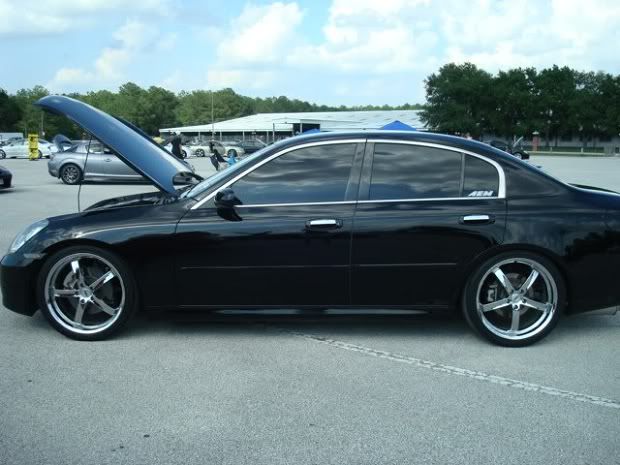 Chrome? WTF?!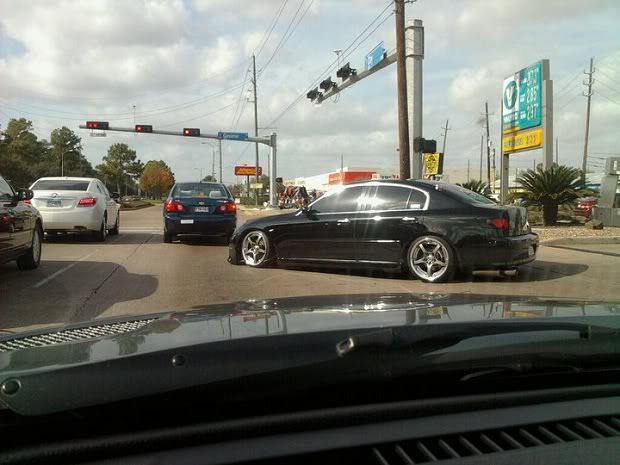 SF-Challenges
VS-XX
T1S. I give it a few months before he switches it up again.
------------------------------------------------------------------------------
Anthony's progress has been somewhat slower than others, but it cannot be denied that his vehicle's transformation has come a long way as well. The original chrome 20" wheels have been replaced with VIP style Traffic Stars that is accompanied by the mix of carbon fiber and black painted accents to complement his Lakeshore Slate coupe. It's never too late to join the body kit club.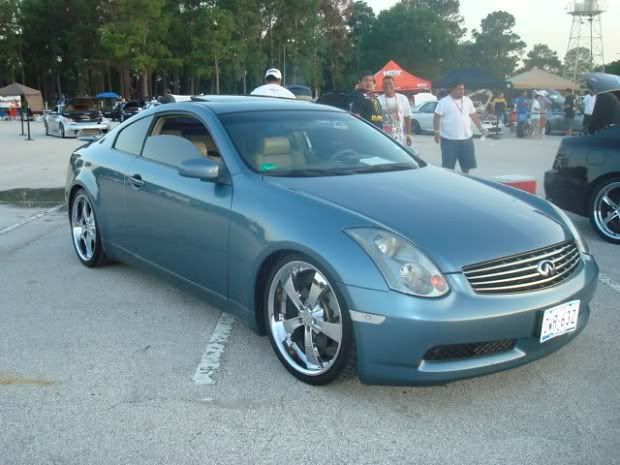 Chrome, again?! Wat da heo...
VIP Traffic Stars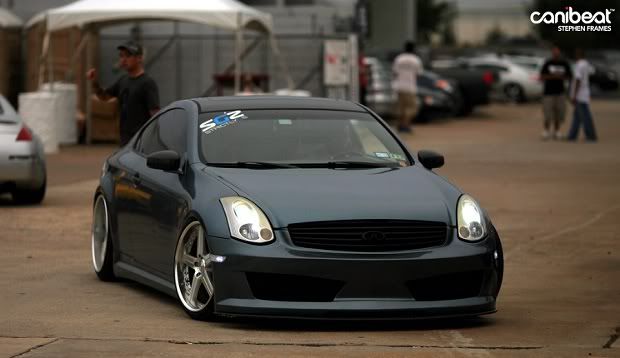 Fully kitted with Canibeat feature. Good transition if you ask me.
But alas, some things must come to an end. On November 6th, 2011, Anthony's Lakeshore Coupe was t-boned by a truck. And even though his car was extensively damaged, it doesn't stop Anthony from picking up the pieces and moving on, nor does it remove his status as an important and vital member of the family.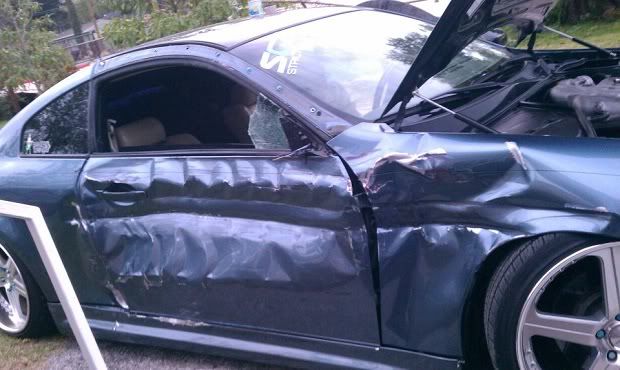 Very sad, but she'll be back better than ever
------------------------------------------------------------------------------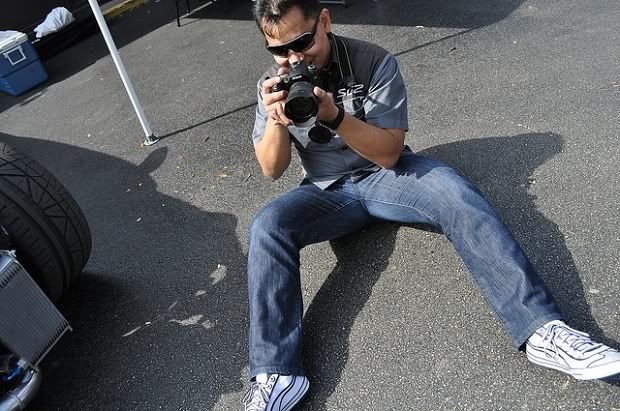 Ryan could easily be considered as the "loose-cannon" of the team, but we've all grown accustomed to his short temper. Every family has at least one "Ryan" that they can rely on to be the most cynical and stubborn of the whole group. Regardless, we all still love Ryan for who he is.
This year, despite being already married, Ryan and Beth had their official wedding and invited close family members and friends. Anyone who attended Ryan's bachelor party has sworn to never speak of what went down that day.
His Black Obsidian coupe hasn't changed much since I've met him, but I understand the reason why. There comes to a point where you reach a certain age and realize that your priorities have changed. At the end of the day, its just a car. And even though it is something that originally brings us together, it doesn't define who we are nor does it elevate our status. Thanks for teaching that to me, Ryan.
But still, I haven't reached "spoon leg" age yet so I don't have to worry about that quite yet. At least you finally did follow through and get the Chargespeed rear and Akebonos.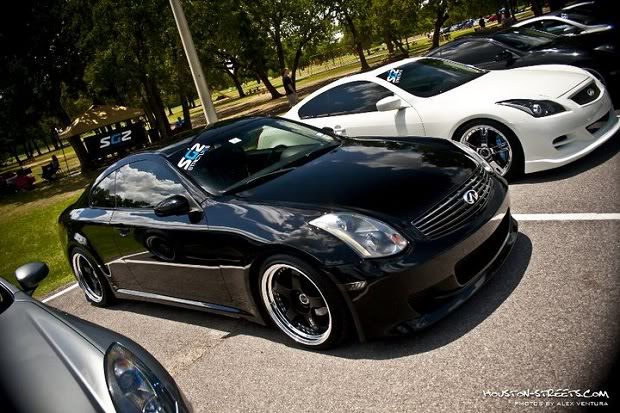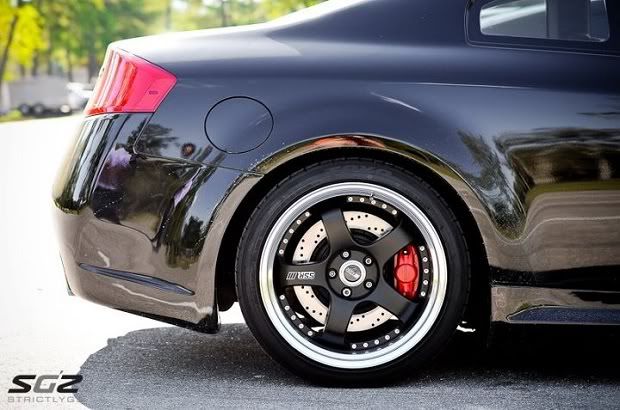 Flat red? Me gusta...
------------------------------------------------------------------------------
Along with the "Ryan" in every family, every group of friends has the token black guy. In our case, Jeremy easily fulfills that roll. Not just because he's black, but the fact that he's the ONLY black guy within Strictly G's.
Despite the flaws in his skin tone, his Louisiana roots, and the fact that he's a die-hard Saints and LSU fan, Jeremy is definitely one of the most stand up guys that I've had the opportunity to meet.
People say that friends are always there to help you and guide you through your best and worse times. A statement like that is something I definitely agree on. However, true friends will undress you and put you to bed after a night of drinking $2 Jager Bombs in Austin, and then proceed to take humiliating pictures of you. Thanks for the memories, Jeremy. No one else in this world would have dealt with my bull**** in Austin like you did.
That peer pressure for Import Reactor pays off and Jeremy FINALLY gets his authentic Top Secret body kit painted and installed.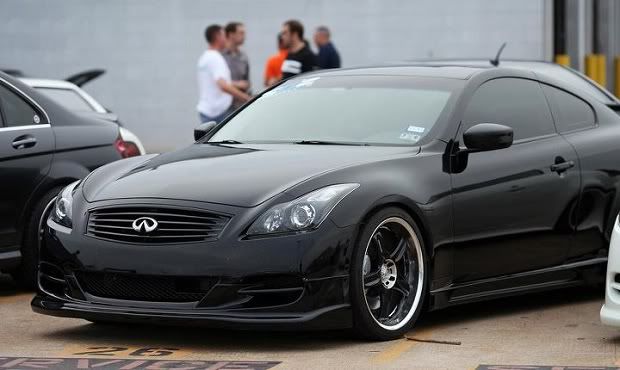 Don't let the picture fool you, a LOT of rock chips leads to Jeremy repainting this thing like 87 thousand times
------------------------------------------------------------------------------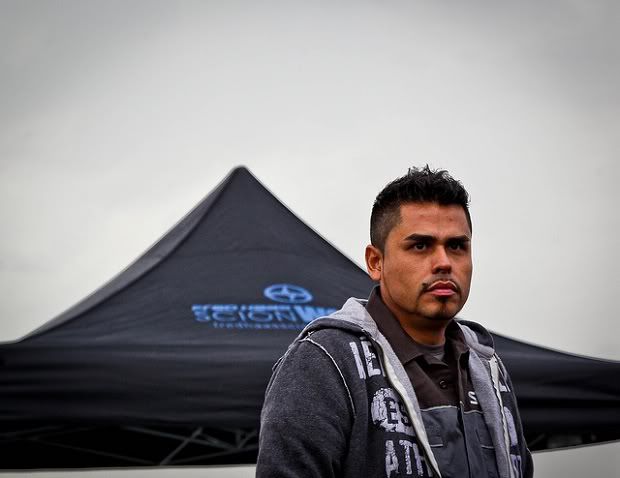 We all met Danny at the first All Team Bash BBQ that I attended in the summer of 2010. Despite not knowing anyone, Danny showed up with an incredibly large cooler of water that he openly offered to complete and total strangers.
Although quiet at first, Danny definitely made an impression on me as a person who's down for anything, so long as there were pretty girls for him to look at. After getting to know Danny a lot more, I came to the realization that he is really family oriented, spending a lot of time with his children and his mother. I fully understand why he was invited to be a part of the Strictly G's family.
Even though his car hasn't made a huge transition with the exterior, Danny was still able to switch out his Diamond Chrome wheels to Concept 1 RS-10, giving it a bit more of a sporty and luxurious look. Still, the exterior isn't the highlight of his car. Danny's sound system is unlike any that exists on the team since it comes fully loaded with competition Merlon Audio subs and speakers and a custom made trunk panel with TV screens that is definitely show ready.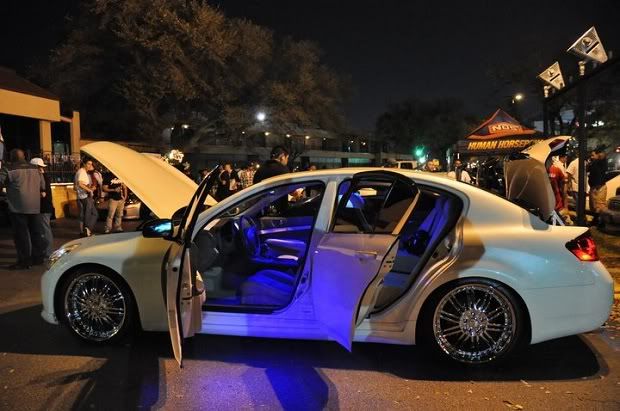 Out with the chrome.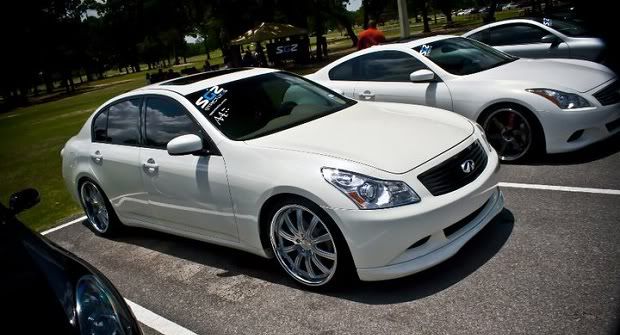 In with the luxurious.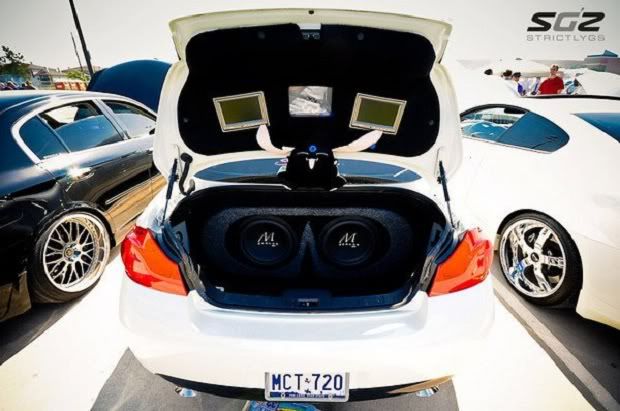 You'd think he was sponsored by Merlon Audio.
------------------------------------------------------------------------------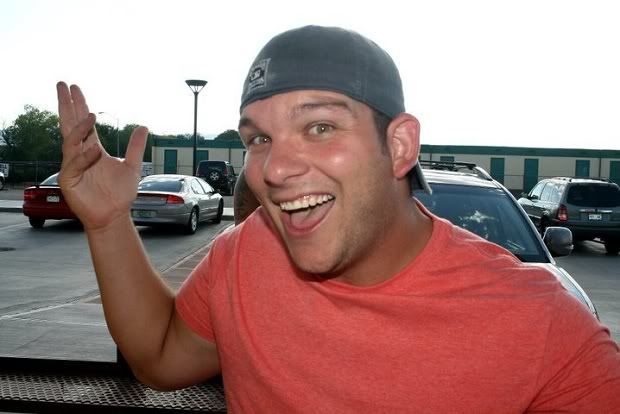 I first met Kevin during the first annual BBQ in Bear Creek held last year. Though I didn't quite know him that well at first, the two of us spoke to each other as if we had met previously. I remember him eagerly showing me his new hideaway plate that he had just installed after finally receiving his K2 remix bumper from Arch Industries.
How'd the hideaway plate work out for you in the end, Kevin?
Every group always has the "drunk party guy." And in this case, Kevin is probably more of the exception than I am, despite me being known for getting pretty sloshed when we all go out. Some people may look at that as a flaw, but to me, Kevin is who he is and always knows what to do to lighten the mood and make sure we all have a good laugh. And even though sometimes he'll be the butt of our jokes, Kevin is hardly ever without a smile on his face, which is something I could definitely practice more often. Who would have thought that a guy from Ohio could end up being friends with an Asian kid from Kansas?
Kevin's car has made an incredibly huge transformation since I first met him. What originally started out as just a drop and wheels ended up being fully kitted and supercharged. Even a change in wheels was in the works for Kevin as he switched from his 19" Volk GT-S to 20" Work Gnosis GS4. Still, it wouldn't end there. After being bored with just showing his car, Kevin has found his new addiction, drag racing. In fact, he even picked up a third set of wheels purely for track use. Only time can tell how much he'll improve when he starts to really toss his car on the drag strip or the auto cross track. It's been one hell of a ride for your car, Kevin.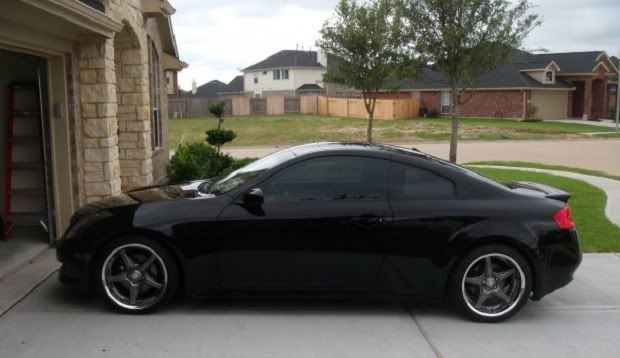 "Drop and wheels and I'm done."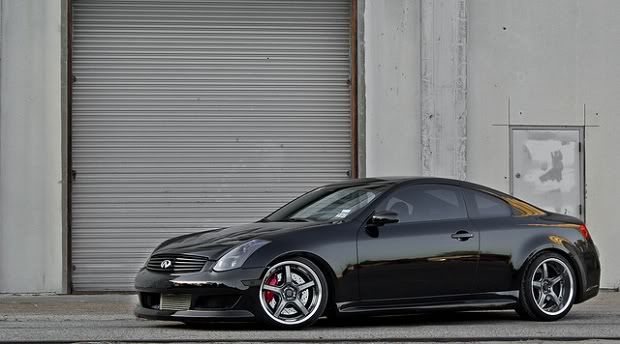 So how did that work out for you?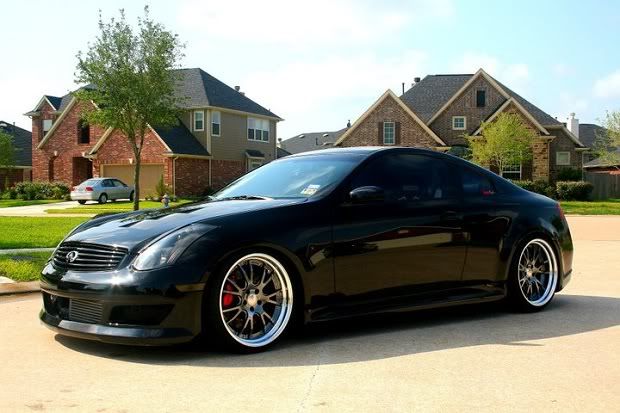 Work Gnosis GS4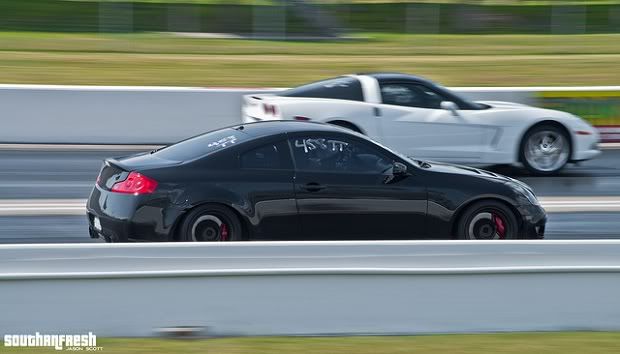 IFO Baytown - Open Track Bracket
------------------------------------------------------------------------------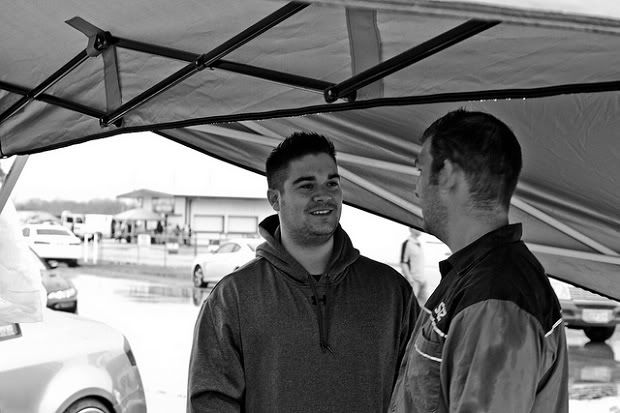 Ian could quite possibly be one of the most down to earth person I've ever had the privilege to meet. Let's face it, the guy never has anything bad to say about anyone, even if he's on the receiving end of a bad deal. The exception may be Iconz Forged wheels though, but that's somewhat of a sensitive subject.
Despite his lack of taste in wheels, Ian has definitely been a vital addition to Strictly G's. So much so that he's offered his home many times to total strangers for BBQ's and UFC fight nights. The hospitality and open heart that Ian possesses is something I look up to and I hope that when I have my own place one day, I could open up my doors to others like Ian has to the rest of us.
Ian originally started out with a $hitty drop and even worse wheels. However, through much harassment (our form of encouragement and peer pressure), Ian finally caved in and went out with the chrome and picked something definitely a lot more unique than others. His 97lb chrome wheels have since been replaced with custom 3-piece forged wheels by Iconz Forged. You'd think with that kind of money they'd send you some etched center caps. Not only were new wheels on the way, but Ian would also utilize this time to get his headlights done by 180 Customs and a fully body kit from AIT and Autokits. A pretty fast turn around for one of the newest members of Strictly G's. I think it's safe enough to say that Ian's ride is quite possibly one of my favorite G37's that I've had the pleasure to be indirectly a part of.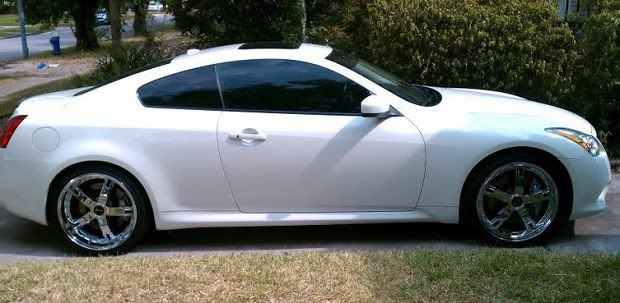 The chrome must be a Mexican thing...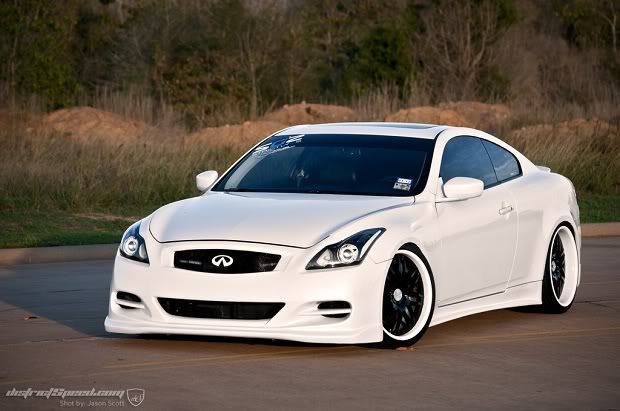 ------------------------------------------------------------------------------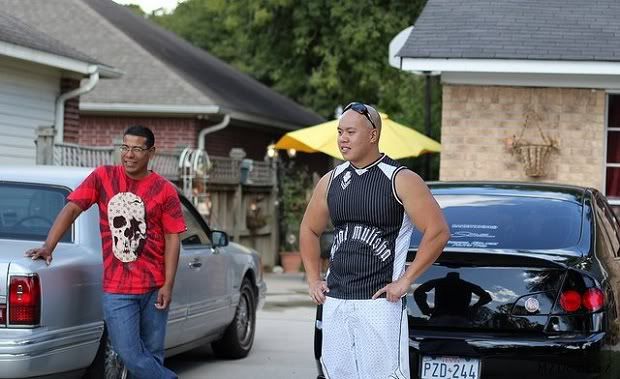 Bolo, the juice head gorilla of the group. The guy looks like he could rip a phone book in half, stack them on top of each other, and then do it again.
I first met Bolo during our DIY day at a garage on Clay Road and Gessner. Bolo didn't really talk much since he was knee deep in trying to lower his car, but what few words we did share were really genuine. Despite his large, bulky exterior, Bolo has a kind heart, something that is rare to find in people nowadays. The guy would literally give you the shirt off his back, so long as you don't mind having a shirt without sleeves. Throughout the time that I've gotten to know Bolo and hang out with him, it is easy to say that the guy is willing to help any of his friends with anything and is down to do anything, so long as he can eat an entire garden afterward.
Bolo's car hasn't gone through a huge exterior transition like many of the members of Strictly G's. However, don't let the subtle exterior fool you. Bolo's mods may not be that visible, but that's because the majority of them are performance driven. Stillen Gen. 3 intakes, Berk Technology test pipes, Top Speed CBE, lightweight 19" TE37SL, and a tune from JTran make Bolo's car better than your showroom G37.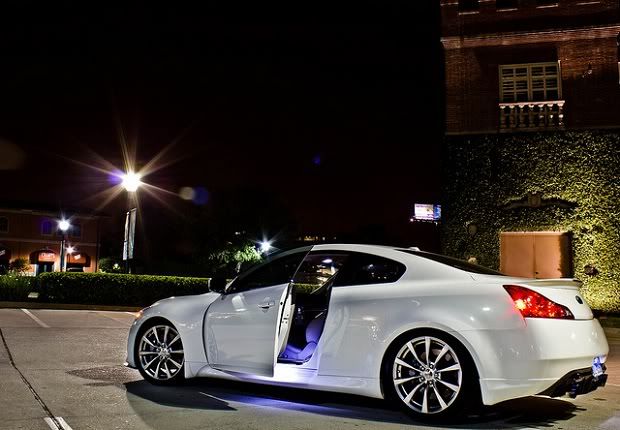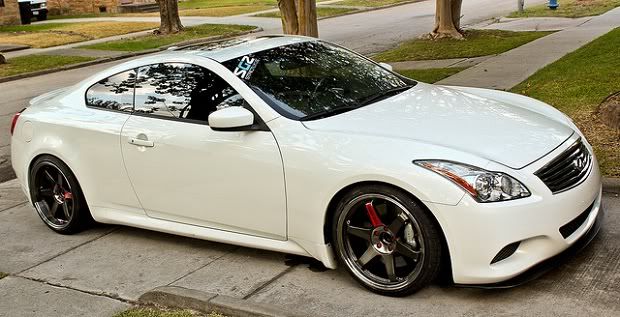 ------------------------------------------------------------------------------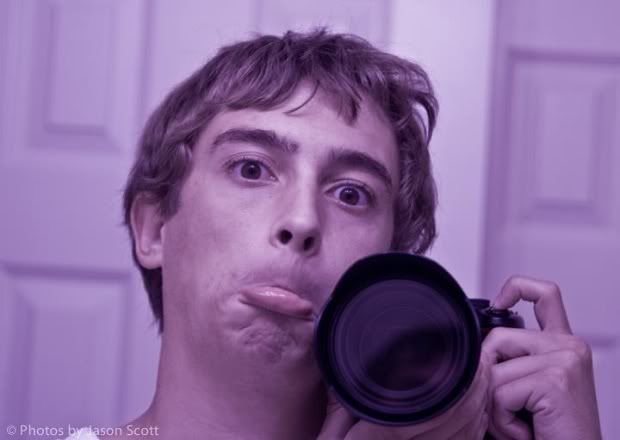 By far, Jason is easily identified as the youngest member of the team. But don't let his age fool you. Jason brings a vast amount of knowledge in performance to the team and is more than willing to help the rest of us expand our own knowledge as well, even if it may come with the occasional snide and sarcastic remark. Not only does he bring information to the table, but Jason has definitely evolved into one of the team's more experienced photographers. I guess your mom's camera was put to good use for awhile until she wanted it back.
Initially when I met Jason, I wasn't too fond of his character since he was younger. However, as time progressed and I continued to see him at some of our events and actually spoke to him, Jason didn't seem like such a bad guy. I realized it was my own insecurities about learning from someone that was younger than me that prevented me from striking a conversation with him. It's a lesson that I take with me to this day, that we all can still learn something from each other despite an age difference. But that doesn't mean you can still keep texting me because you're bored, Jason!
Unlike the rest of us who focus primarily on exterior mods and minor performance, Jason's Laser Red coupe is all performance. The only thing noticeable in his exterior would be his lightweight SSR wheels. Every tie brace and suspension part that you could possibly imagine is on his coupe. Hell, he even got the damn thing corner balanced. Still, even with the money dumped into the suspension, he's still yet to throw it on the Auto-X track to see what she can really do. Perhaps we'll see it in 2012, once the track season kicks back up again.
Take a good look at it, Nismo bumper and wingless trunk to be installed soon!
------------------------------------------------------------------------------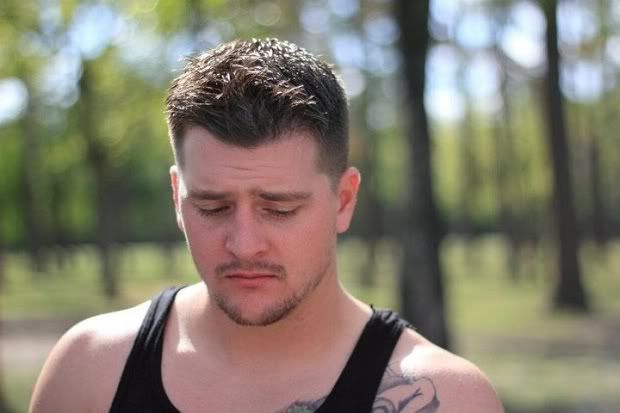 Josh, the guy we all saw in Austin waxing his car in the middle of the summer afternoon. Probably not the brightest idea in the world.
At the beginning, I didn't really have much interaction with Josh. Most of his time was spent with Gabe and through him, I was finally able to meet and talk with Josh. Ironically, the two of us have a lot in common, something that would probably never have come to light had I not actually tried to get to know him.
Even though first impression was that he was a complete idiot, Josh comes off as someone who doesn't show a lot of emotion, but when he does, it is sincere and meaningful. Josh is someone who is always loyal to his friends and doesn't hesitate to help you when you're at your lowest point in life.
Probably the biggest carbon fiber love on the team. Damn near everything is carbon fiber. First the wheels, the interior, the engine bay, and now the authentic Top Secret body kit laced in carbon fiber. Hell, if you could get Rotora brakes in carbon fiber, Josh would have opted for that instead of the yellow powdercoat. I'll have to say, that Josh was the first one to admit defeat, not stay static for too long, and go with air bags. So how does it feel to be a quitter, Josh?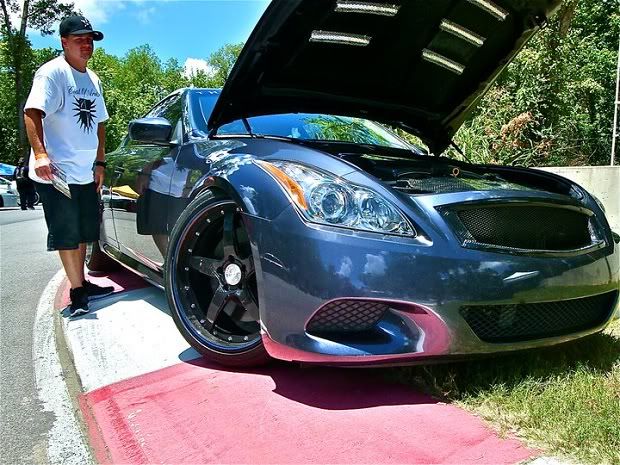 Seriously.... waxing in the summer afternoon?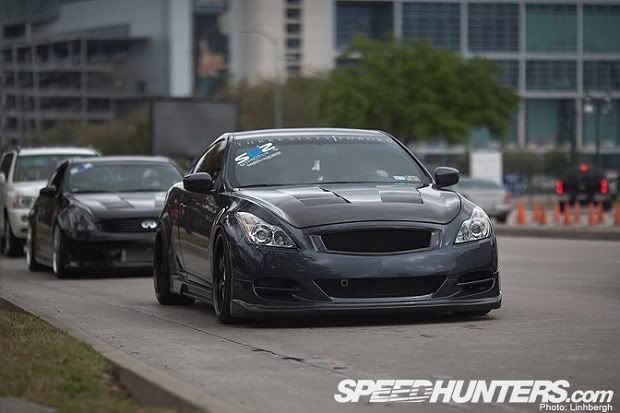 Static
Giving up and going with air bags
------------------------------------------------------------------------------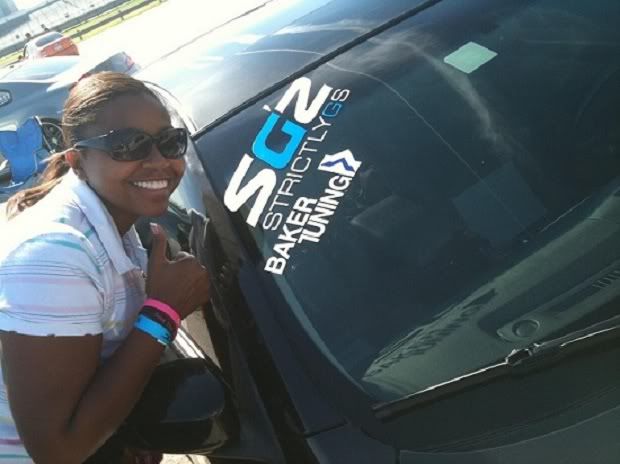 Loren first met us at a G and Z meet that was being hosted by someone trying to start up a new VQ crew from Houston-Imports. What crew is that you ask? Not a very good one since they're not around.
I get the opportunity to speak with Loren a lot, especially via text since most of it is just filled with advice seeking questions. Anyone who knows me can generally tell you that I'm a straight a$$hole when it comes to advice giving.
However, Loren, being the gentle soul that she is, let my sarcastic remarks roll off her back and took some of my advice to heart. She's the kind of person that is willing to listen and learn and ask questions if she just doesn't know, something that I know that I need to learn how to do a lot more efficiently.
Well, Loren definitely did well when it came to modding her car. Although pictures are minimal and I had to scour the Earth to at least come up with the ones below, her build is coming together. The car sits on lowering springs, TSW wheels bought from a fellow G driver in Dallas, APR big brake kit, and Kensytle body kit. Not off to a bad start, but like the rest of us, still a long way to go.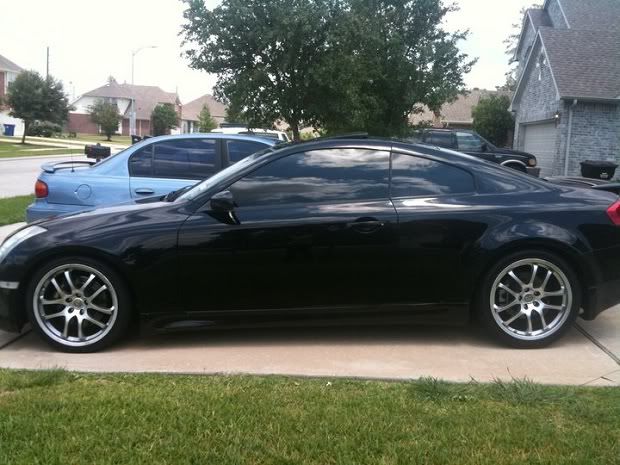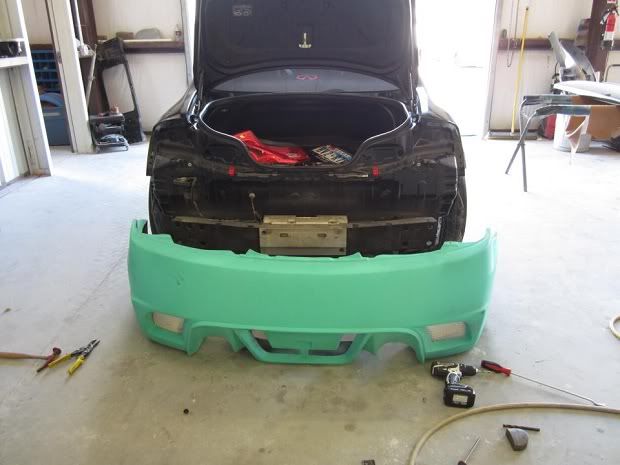 ------------------------------------------------------------------------------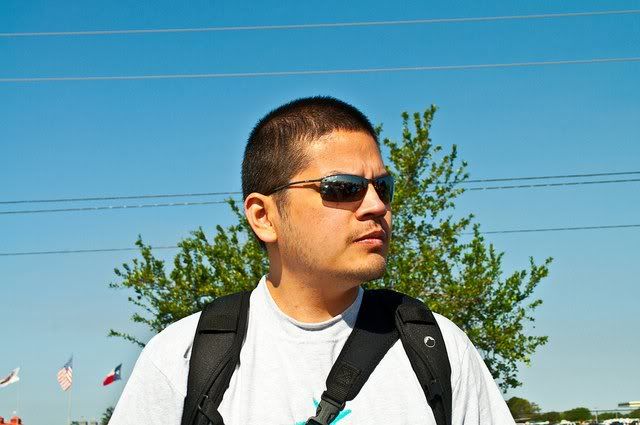 If there were an award for most mysterious person on the team, Mike would receive that title without any argument. Due to a lot of family commitments, Mike hasn't been able to attend many of the functions and gatherings that we have. However, when he does have the time, we treat him as if he's always been there at every function.
Unfortunately, due to his minimal appearances, I haven't had much face-to-face interaction with Mike as I do with other members on the team. However, what many don't know, is that Mike and I email each other very often, mostly discussing things that happen in our daily lives and our comparison between Vietnamese and Filipino cultures. Mike is also the first to always ask how my family is doing, a courtesy that I've learned to always extend to him as well.
Mike, just remember that even though you may not be at all our events or gatherings, I hope that you still remember that you're a vital member to the team and that we're you're second family.
Like Mike, his car is much of a mystery too. At least when we actually get to see it in person. However, within the past year, a lot has changed. Most of the modifications (like Jason's), have been done to the suspension so that Mike can toss this car around on the Auto-X track. But, like some of our members, tragedy does strike when Mike's car was backed into by an anonymous person. Instead of complaining about it, Mike decided to turn the positive into a negative. The front bumper would be swapped out and a sport lip installed along with it. That's not all! Mike is much of a wheel whore as Gabe is and has gone through 3 sets of wheels, thus far.
We need to see this bad boy more often, Mike.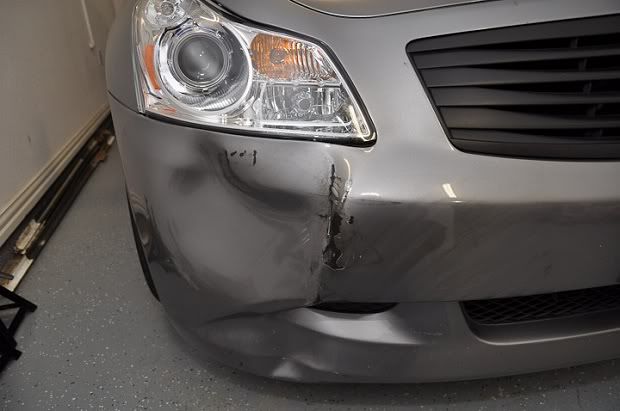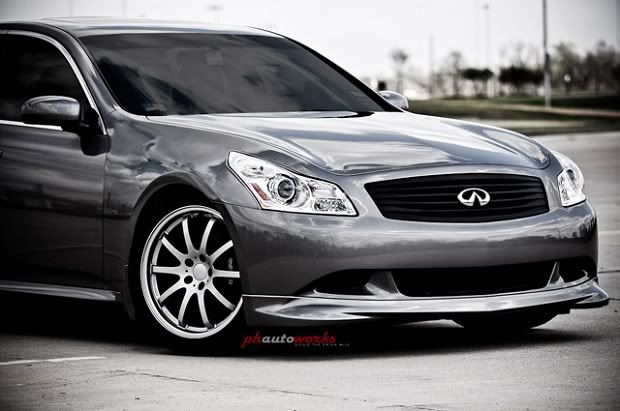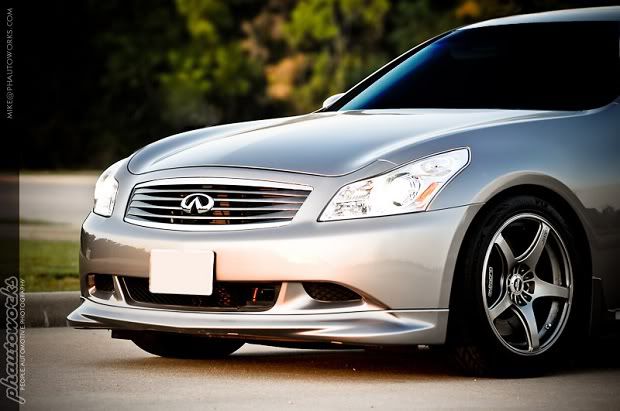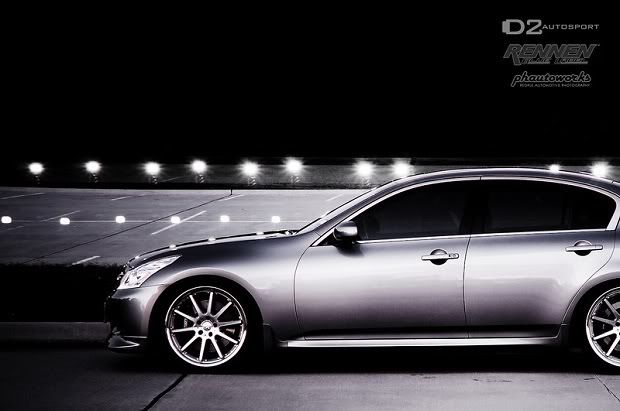 ------------------------------------------------------------------------------
This year, we also bid farewell to one of our members, Hieu, who leaves us to pursue his educational opportunities in Las Vegas, the "City of Sin." Even though he's gone from our group, Hieu will continue to live within the heart of our team and his presence will be greatly missed.
Smoking hookah hasn't been the same without you, Hieu. We'll see you soon when we make the trek to Vegas.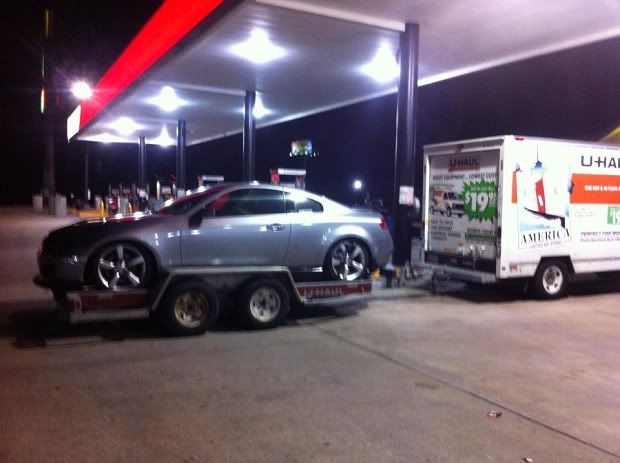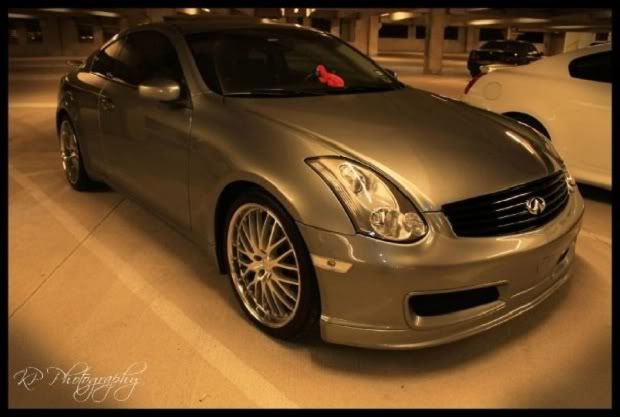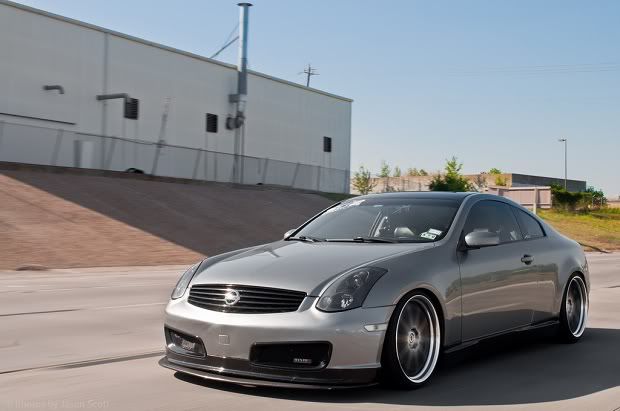 Hieu's Nismo style ride has progressed rather quickly in the last year as he obtains both authentic and JDM style pieces to work into his Nismo theme for his coupe, along with a set of Wilwood brakes to cure his track addiction.
------------------------------------------------------------------------------
As for my car? Well, it's been a long journey. A journey that couldn't have been accomplished without the help and support of the team.
I'm just as guilty as anyone else that I make fun of. When I first got the car, I had said that all I wanted was a body kit, drop, wheels, and exhaust. Man I had absolutely no idea what I got myself into.
So far, been through 2 different body kits, 3 different trunks, 2 sets of wheels, a hood, OEM brembo brakes, numerous wheel spacers and LED's, a sound system, and black suede headliner. More to come in 2012, I promise you that.
Josh told me awhile back that my car has gone through a night and day transformation. What do you guys think?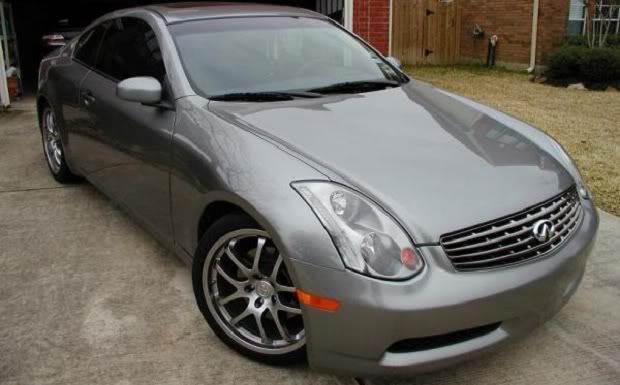 First day I bought her in Feb. 2010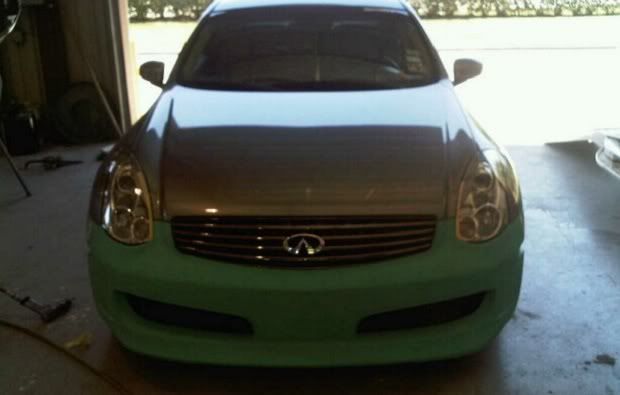 1st body kit, AIT and Ings+1 sides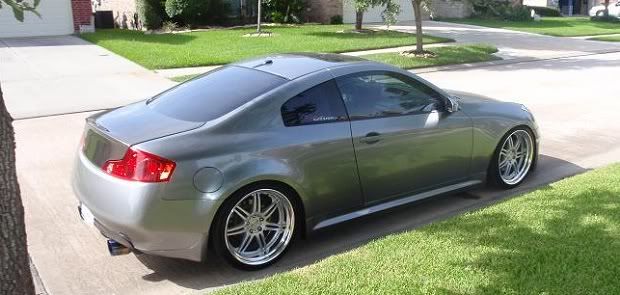 Sold the AIT and Ings+1, bought Kuruma, Impul, Strafe trunk, and WORK T1S
Sold the Strafe trunk and went wingless trunk, picked up Hikkata Dori hood and Chargespeed rear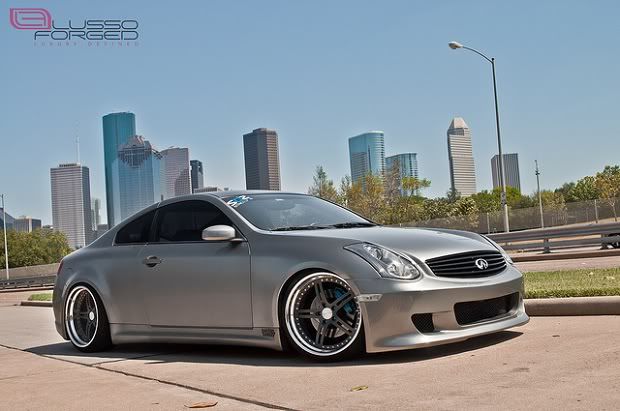 Sold T1S and picked up Lusso Forged LFC5

And here she is today. No, I didn't get rid of the hood. I just like to switch out every once and awhile.
------------------------------------------------------------------------------
Despite all the good times, the year hasn't always been pleasant. Unfortunately, tragedies have struck within the heart of the Strictly G's family, when important and vital members of our own families have passed away, Mike's mother-in-law, Laura's father, Gabe's great-grandmother, and Ryan's best friend. May they all rest in peace and wait for us joyfully at the gates when it is our time to meet them again.
My own immediate family has also been the target of tragedy. In early November 2011, my sister Nina was diagnosed with breast cancer.
However, the entire year hasn't been filled with tragedy. Where the lives of others end, new life begins. This year, Strictly G's has said hello to three newborns and team members become fathers and mothers for the first time. Ian and Jennifer bring baby girl Zoe into this world, just shy of a few weeks from Josh's daughter Madison.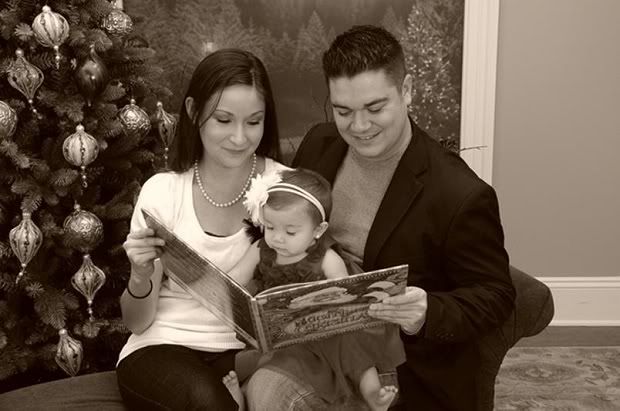 Ian, you know you don't know how to read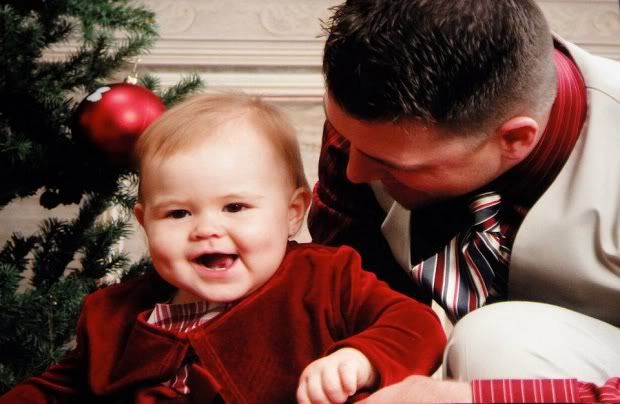 I make fun of Josh enough so I have nothing to say here
Anthony and Vicky will also be first time parents in about 2 weeks when they welcome their daughter Mikeala into this world. I guess you could also technically count Spike as a newborn, since Beth and Ryan essentially treat him as such.
The past year has brought a lot of changes and improvements to all of us. I'm eager to see what 2012 brings. I'm sure we'll see more members join the forum that we'll have the opportunity to meet, but I'm also sure that more tragedies will come our way. However, through the strength of each other, such events can be easily traversed when we all do it together as a family.