Wek'Fest, the time finally arrives. It's the morning of Friday the 14th and I'm up bright and early for the Lonestar Run, hosted by Mayday Garage. Hieu and myself have decided to join the Mayday caravan to Dallas, while Jason rides shotgun in Hieu's car. Unfortunately, tragedy has struck within the Strictly G's family, preventing Gabe to join us on the Lonestar run. However, Josh is there to wait for Gabe and take him to Dallas and meet with us later that afternoon.
The caravan consists of about 20 cars, all different makes and models and all different crews. The sight of the caravan is unique, completely different from the long line of G's that I'm used to seeing. Regardless, the caravan is still an attention grabber as people stare at our staging area when they pass.
There are familiar faces within the line of cars, such as Eddie Williams formerly from Nextstage and now part of 16NiSS, Jose Delgado from What The Fitment, Autrey McVicker from DWS Parts, Greg Lily of 16NiSS, and former G35 driver Drew or drew2003cb as he is known on our forums.
Paul Morgan and his wife, Angylique, would be the last to arrive in their detailed S2K's.

John P. of Mayday Garage briefs the participants about the risks, route, and the pit stop along the way. The Mayday garage guys ensure us that there is to be absolutely no mooning on the trip, yet they guarantee nothing.
The waivers are signed, Lonestar Run decals are handed out, and the stage is set for the 3-hour journey north on Highway 45. For myself and Hieu, this is a familiar site since we just took this route 2 weeks ago for XDC. Nevertheless, we're both more than prepared for the trip.

Traffic is horrid this time of day, which is surprising since it is 10 AM on a Friday. Regardless of the heavy traffic, myself and Hieu are still able to make it toward the front of the caravan, just behind Paul and Angylique who are keeping up with John P. (in Greg's Mercedes) and Greg's matte green STI.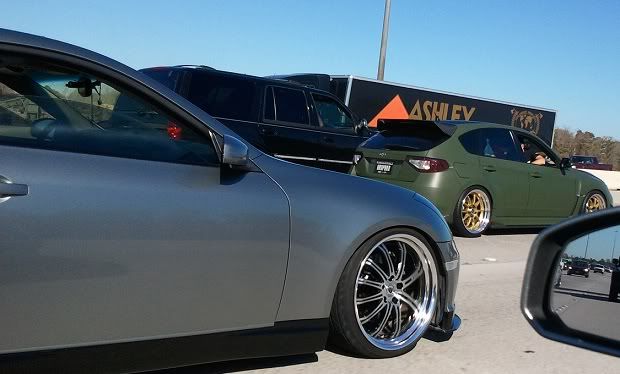 Hieu passes me by and I notice that there is someone trying to climb out of his new molded trunk!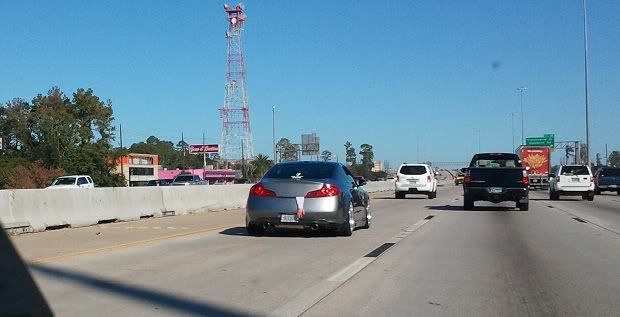 The trek to our first pit stop is smooth and arrives rather quickly. Buc-ee's is the pit stop of choice, another very familiar site to the Strictly G's family. Not many people get gas at the stop though, since we're all required to only have 1/8 of a tank of gas while we're in the convention center. It's all about burning that gas on the way up there.
Drew with a big smile on his face as he partially fills up his new STI.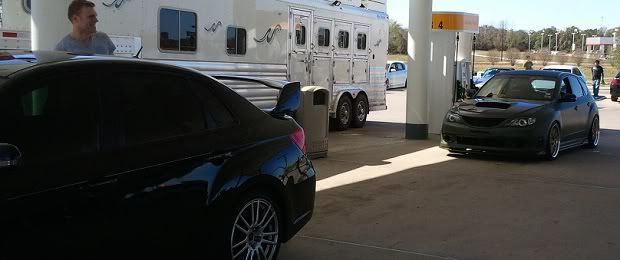 After some quick gas and chopped beef sandwiches (Jason would opt out of those and eat 3 packages of candy instead), we're on the road again. The caravan gets partially split by two cattle trailers trying to out do each other, and as a result of being stuck behind one, Hieu and myself would end up with a bunch of **** on our front bumpers and windshield... literally.
Still, we wouldn't let that ruin our trip and once the window was open to pass them, Hieu and myself do so quickly to catch up to the front of the convoy.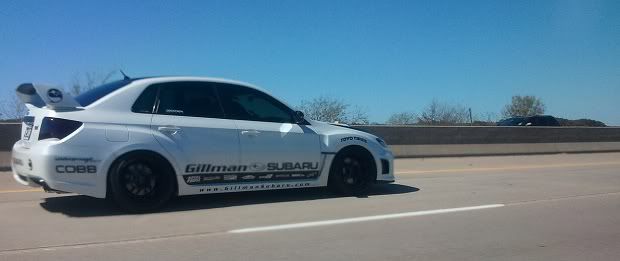 What trek North isn't without some weird sites along the way?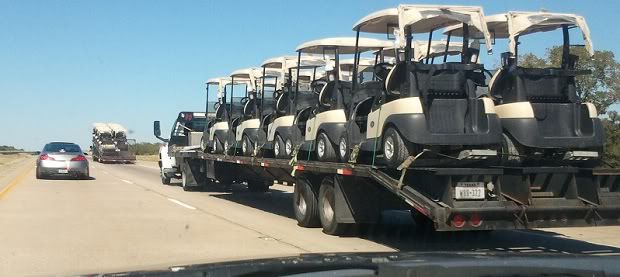 Alas, the outskirts of Dallas are now behind us as we enter the city. We split off in the direction toward Ft. Worth where we are greeted by uneven roads, rough terrain, and rock ridden construction. Slowly but surely, we manage to trek through that disaster of a highway and eventually make our way down toward Montgomery Plaza in Ft. Worth where the Lonestar run ends at In-And-Out Burger. Seriously, what is it about that place that keeps bringing people back?
After a short break and meeting up with Paul and the rest of Baker Tuning, Hieu, Jason, and myself bid our farewells and make our way to our hotel. Josh and Gabe would join us later that afternoon. But before Josh and Gabe would arrive, Joe (Jaythree) would make a surprise visit to our hotel and meet with us. The meeting caught us by surprise, but we were happy to have the opportunity to meet with a fellow G driver as passionate about our cars as much as we are.
Essentially, the evening would arrive and the sun would set. The group finds itself at Pluckers for dinner and beers and then eventually crash for the night to be prepared for the morning. Who would have thought that the show would far exceed our expectations.
And in closing of Part 1 of the event coverage, I leave you with a small, short clip of the front of the Lonestar run as we approach Dallas.