The event is over and it is time we all wake up and make the trek South back down to Houston. Our vehicles are parked together overnight, waiting for us to come downstairs with luggage to be loaded. Once again, the Team is split into two groups, with Kevin, Hieu, Bolo, Ian, Josh, Loren, Danny, and myself in one group and Jason, Gabe, and Ryan leaving a few hours later. You definitely cannot interrupt Ryan's beauty sleep and God knows how much he desperately needs to look young again.
The first group wakes up early and grabs breakfast and gas before the trek back home. Loren meets us at the hotel since she decided to stay with her brother instead. Can't blame the girl for trying to save some cash, right?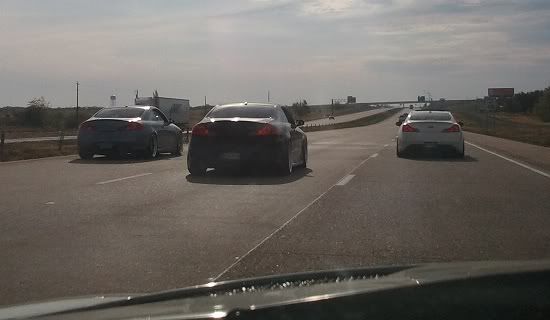 We hit the road at about 8:30 AM with the cool Dallas breeze saying good-bye to us as we journey South to the warm and humid Houston air. At this time, we're all pretty used to traveling together in a convoy with the unspoken assumption of making room for each other on the highway as we travel. We continue as we normally do, passing the slower traffic and getting stared by onlookers. From the outside looking in, it definitely isn't a coincidence that we all happen to be traveling on the same highway, in the exact same make of car, with the exact same banner flown on the front windshield. Strictly G's makes a statement, especially in larger quantities on a long road trip.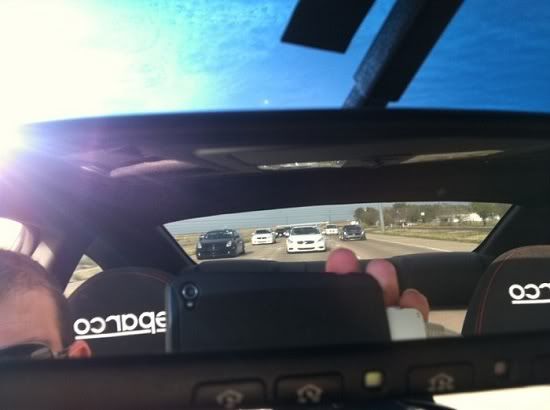 We hit our midway point and make a pit stop at Buc-ee's for Jen's hungover bathroom breaks, a purchase of jerky, and a breakfast burrito for Bolo. Kevin harasses the checkout lady, demanding an out of town discount. Needless to say, Kevin wouldn't get it and would only leave with a smile and laugh from the employees at the rest stop.
The ride home seems long this go around, but smooth. No distractions, no impeding traffic. It is just the Team and the open highway. I ride with my windows down for the majority of the trip, lost in the cool wind that fills my lungs as it travels into the open cabin of my car. I take deep breaths, enjoying the last few moments of the cool, summer breeze that will soon be replaced by the hot, humid Houston air.
We all finally reach the outskirts of Houston and slowly break away from each other as we all head in our separate directions that would eventually lead us back to our homes. I slowly pull into my driveway and step out of my car. And although the others are still driving South on HWY 45, I knew our weekend journey has finally come to a close. A small feeling of sadness overcomes me, but it's eroded away immediately when I realize that this wouldn't be our last trip to Dallas.
Job well done, Strictly G's. I'll see you all again back in Dallas for Wek'Fest.