Disclaimer: The images that I've enclosed below do not belong to me. They are gathered from our own forum and other forums / facebook pages. I am not taking any credit for any of the images linked below.
It's the morning of the event. Everyone is up bright and early, despite the festivities that took place the night prior. Ryan is the first person up, outside already wiping down his car in preparation of the show. Roll in times for the event is from 8:00 AM to 11:00 AM. The original plan is to meet up with Chris Black at 8:30 AM, meet with the DFW G drivers, and then be at the event by 9:00 AM. Seems like a long shot for us since we've NEVER been on time for anything, regardless of how well we plan things out. We're all used to each other being late, no matter what the circumstance.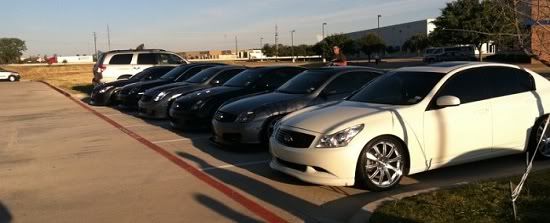 Everyone gets a heart breakfast from the hotel, Chris arrives at the hotel, and then we're all off to meet the Dallas guys so we can roll together to Texas Motor Speedway. The drive to the bass pro shop, where the others are waiting, is quick. Once again, most of us are able to drive on the expressway with our windows down and let in the cool Dallas breeze into our cabins. The highway is essentially empty this early on a Saturday and the rest of us are able to enjoy the smooth cruise, unobstructed by other vehicles. It is just us and the open road. Chris Black drives remarkably fast so we all do our best to keep up with him. I do something very rarely during our convoys and that is being toward the front, right behind the lead vehicle. Josh was even nice enough to point out that I don't ever drive that fast.

We eventually meet up with the DFW drivers at a nearby Bass Pro Shop and we're all headed out toward the track. Initially, there was a lot of confusion on who was headed where and the group is separated from each other. Bolo and myself are part of the first initial group, following a group of BMW's, a few 1st generation coupes, and a lowered Mazda 3. After weaving in and out traffic trying to keep up, navigating through some roads with heavy construction, and just making sure not to be left behind, Bolo and myself arrive at the track and meet up with the rest of the groups. Ryan expresses his extreme dislike of being left behind and makes sure to blow one of his fits that lasts all of about 5 seconds. The Team meets up with Wayne, checks into the track, signs our waivers, and await our motorcycle escort onto the track.

The Team drives through the entrance tunnels and onto the track. I can hear the deep exhaust notes behind me as some of the members give their cars a little bit of throttle so the sound of their exhausts could echo throughout the thin corridors of the entry way. Paul Morgan greets us on the track and directs parking in the area that he has established already for us. After an incredibly huge ordeal with parking, everyone is finally situated, the tents are up, flags are flown, and Strictly G's is ready for the show to begin. During the detailing process, Gabe and Ryan induct Loren Williams into the Team, making her an official member of Strictly G's and our first female G driver. I guess Loren begging Uncle Jeremy to let her into the club finally paid off. (Just kidding, Loren)
Some members decide to sit in their chairs underneath the canopies to hide from the sun. Others begin their routine walk around the track to check out the competition. Jason has a press pass for the event and heads off to the actual drift track to catch images of the event. I, on the other hand, hit an allergy wall and immediately go to lay down in the back of Danny's sedan, something that he's already accustomed to. I would stay in the spot for awhile, hopefully letting the allergic reaction I'm having to the dusty air settle down.
Eventually, I would emerge from Danny's sedan and rejoin some of the others underneath the canopy. Spike, the Team's mascot, is overheated and spends the majority of the event on a towel, covered in ice-bags. Big mama Beth doesn't leave Spike's side and makes sure that he's well taken care of.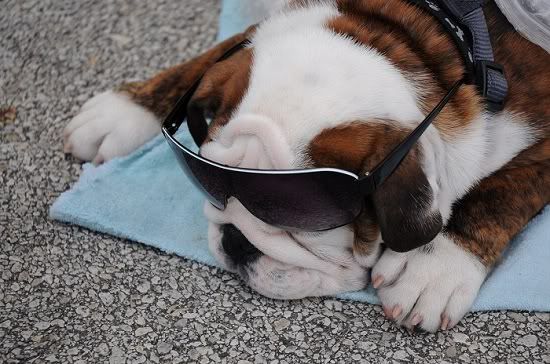 The sun continues to shine down on the track and I'm finally able to walk around the track with Bolo. We stop by a few tents to say hello, check out some merchandise and some of the cars that are in attendance. The vehicles are a mix of common imports, rare imports, VIP cars, and a few muscle cars too. But none of them out number the amount of G35's and G37's that have shown up to the event.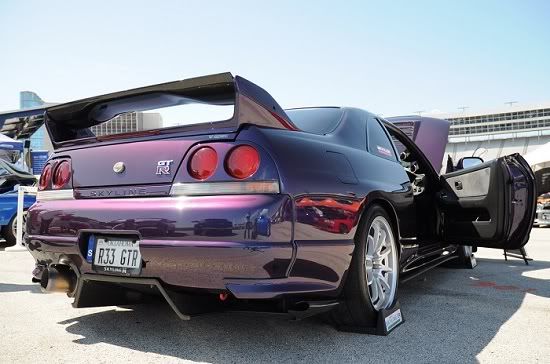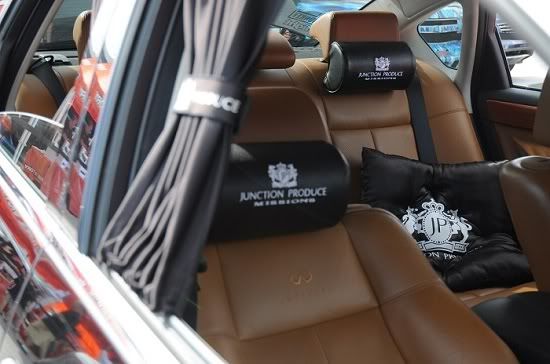 Team Nextstage - Henry Tran's Infiniti M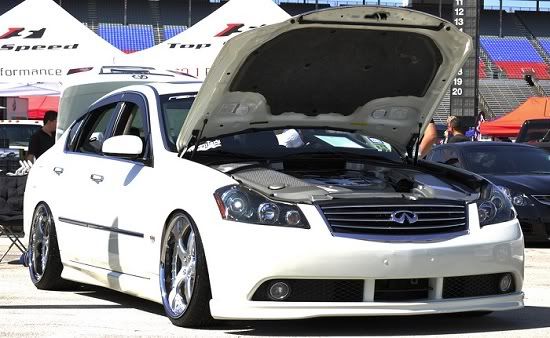 Stance on this 350Z is undeniable, despite the replica wheels.
DFW's own Rob Miller's Vortech G35. It is hard to believe that he tracks this car too, especially with this paint!
Tiffany and Ty of Cupcake Meet are also in attendance directly across from us. We all say our hello's and make small conversation, since it has been a long time since any of us have seen Tiffany and Ty. I must say that it was definitely great to see them again, since they're both a bunch of kind-hearted people. Something that is a rarity in the tuning automotive world.
Some of us make our way to the track to check out some of the drifting. White smoke can be some from a distance as we begin our way toward the stands to watch the cars go around the course. There are some recognizable vehicles in attendance at the drift event, such as Team Nvrslo and Houston's Non-Stop-Tuning drift cars. We wouldn't stick around too long watching the drifting, since the stands filled up quickly. I guess the people at XDC wasn't expecting such a huge turnout for the event, which is definitely a good thing to have, even though there aren't enough spots for everyone.
Just because you're press, Jason, doesn't make you some sort of hotshot now.
The afternoon wears on and some of the XDC / Remix models have finally come out from underneath their tents, making their rounds across the lot and handing out XDC fliers and t-shirts. Ryan and Ariel are sure to grab a picture with Vanessa Phil, a Dallas native, show regular, and someone that Strictly G's have definitely grown quite fond of. Ryan doesn't hesitate to ensure that he gets a picture of Vanessa Phil and the other girls.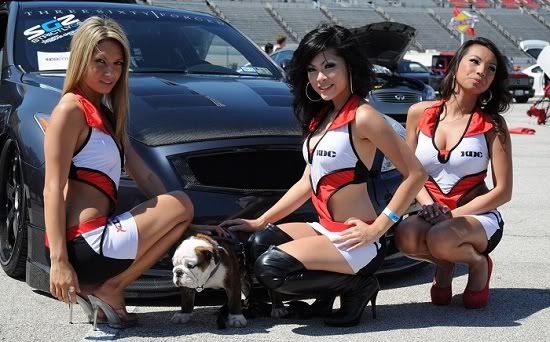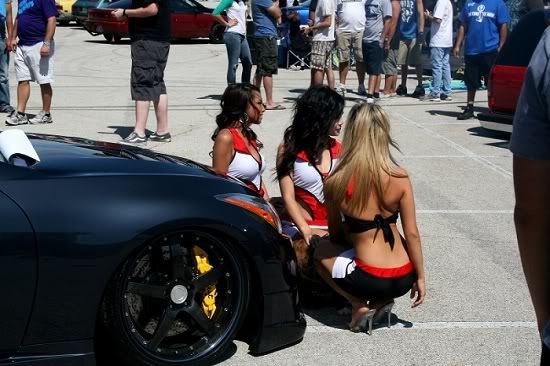 The sun reaches its highest point of the day. The heat starts to reign down on our parade and many of us retreat back to the shady canopies to escape from the sun's piercing rays. Tan-lines are getting worse, people are turning red, and water is continuously being consumed. Eventually, Josh can't take it anymore so he removes his shirt and walks around the track, like a huge tool bag. But it's Josh, we've all grown to love him for who he is and what he's all about.
Somehow he managed to drag this poor girl over to his car and con her into taking a picture with it. Rumor has it that the picture cost Kevin $5!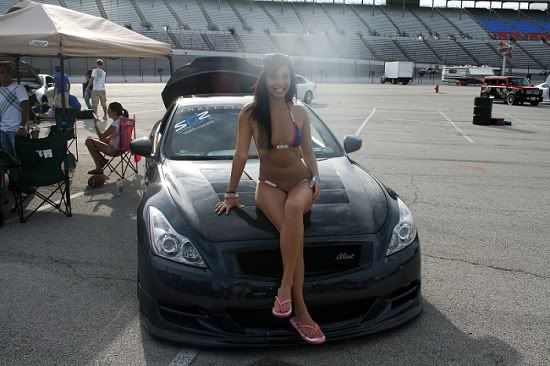 Finally, the sun sets behind a set of clouds, reducing the heat it radiates onto the track. And with a setting sun comes the results of the drift event and the car show.
Houston's Chelsea DeNofa of Non-Stop-Tuning takes first place in his BMW for the 2nd time in a row! Definitely something of note, since he was up against some very good competition.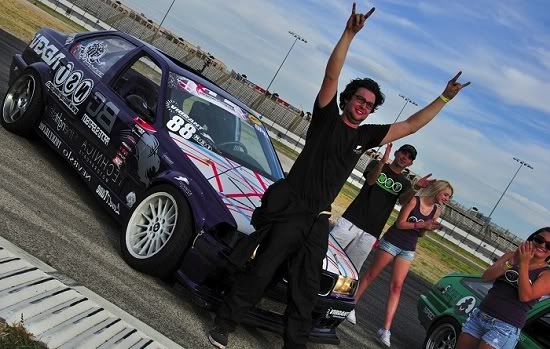 Hieu and Bolo would take home 1st and 2nd place two door mild, respectively, and Paul Morgan's Honda S2000 would take home 1st place Honda. Chris Black would take home 1st place Infiniti mild, despite having ruptured his power steering line during his trek to the track. Chris would eventually tow his car back to his house where he plans on upgrading to stainless steel lines. I guess winning something at a show is kind of worth having your car broken down.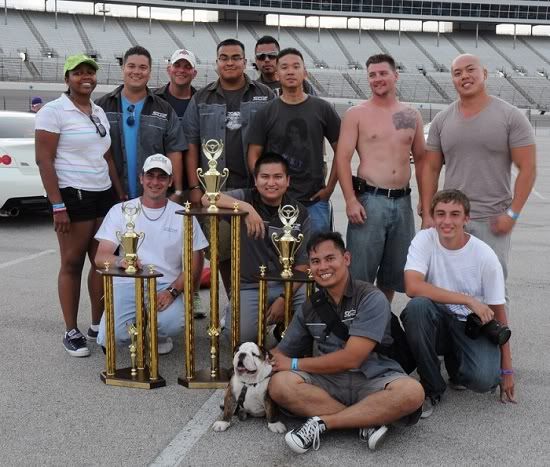 Finally, the event comes to a close. Everything is packed up and loaded into our cars and we're all ready to just get back to the hotel, shower, and grab something to eat. However, it definitely wouldn't be a Strictly G's event if something didn't happen that would prevent us from returning back to our places of domicile. Our very own Hieu Huynh would misplace his keys and we would spend the next 30 minutes searching for them only to find out that Josh picked up his keys earlier and then completely forgetting he had them in his pocket. After that huge fiasco, we're on the road again, this time in two different groups.
The rest of us finally make it back to the hotel where we would clean up and shower and then head to Chili's for one big Strictly G's family dinner, except for Danny who somehow managed to end up at a different Chili's from us. After dinner, everyone is headed back to the hotel to crash out and prepare for our upcoming trek back home in the morning.
XDC / Remix is definitely a success and a huge step above the previous show that we attended in Dallas. I, for one, will definitely attend another XDC / Remix event and look forward to building more memories with other enthusiasts and speed demons out there. And despite the sun burns, dehydration, and heat, it was definitely worth enduring all those conditions to be able to enjoy the company of a group of people that I've considered my second family.