It is Friday, September 23rd, the day before the Xtreme Drift Competition Finals and Remix Car Show. We've been planning on attending this event for many weeks and the day of the journey arrives at our doorstep. Both Gabe and Jason had already made the trek North the day prior, however today is when the majority of the team travels to Dallas for the event. Due to work schedules and other time related variables, the team travels in 3 separate groups. Ryan goes by himself with Beth and Ariel. Myself, Kevin, and Hieu leave in the early afternoon, while Ian, Bolo, Josh, Danny, and Loren catch the trail end and leave in the late afternoon.
My journey begins early at Greenspoint mall, where I'm to meet Hieu and Kevin at 10:30 AM and roll out at 11:00 AM. The morning brings a cool breeze to the awakening city of Houston. The sun is out, but there is a slight overcast out, dampening the harsh and hot sunlight that we've all grown accustomed to these past few months. I wait in the parking lot with the windows down, something that I've done rarely. Hieu is the first person to arrive, while Kevin is still Northbound from Pearland.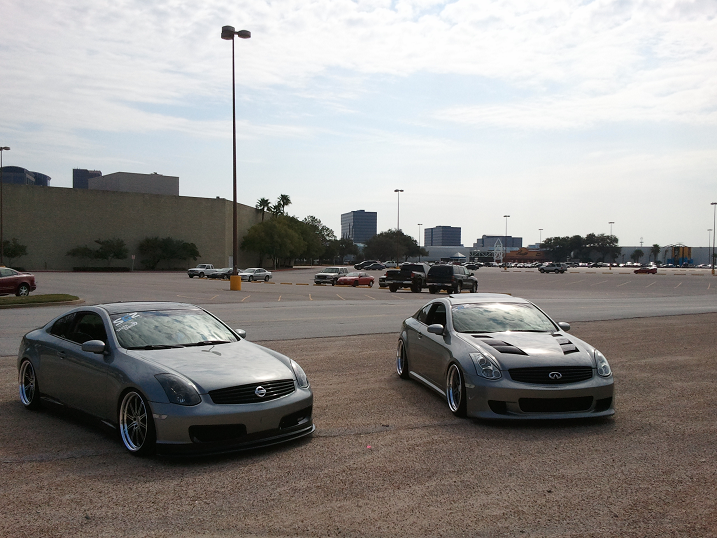 Within a few minutes of speaking with Hieu, I receive a call from Kevin who has opted to meet us on HWY 45 instead of exiting to Greenspoint. Both myself and Hieu agree and we're Northbound within a few minutes. We travel North, toward the Woodlands and Conroe area, where traffic is as deadly as it always is. But it still isn't enough to contain or slow us down. Hieu and myself are able to manage, especially with just the two of us since with a smaller group we're able to weave in and out of traffic without worrying about too many people trailing behind us.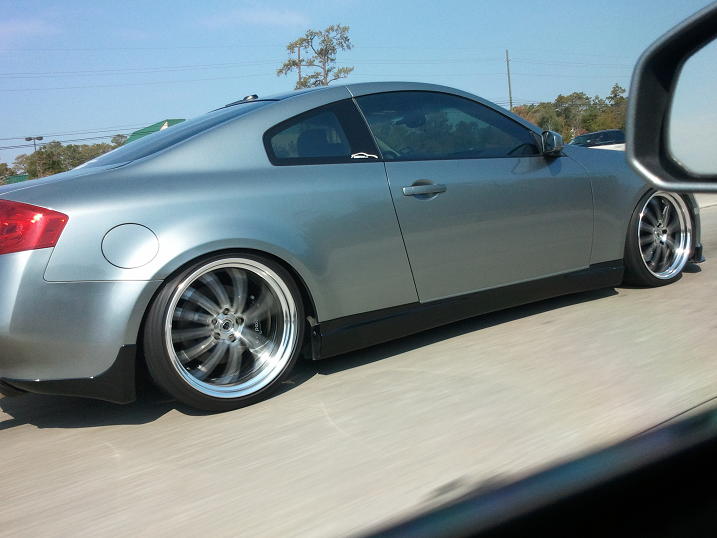 Not long after passing the Woodlands and getting into the Conroe area, Kevin finally catches up to us and I immediately notice that he's switched from his Enkei RPF1's to his WORK Gnosis. With the switch from his 18's to his 20's, I already know that Kevin is well prepared for the upcoming Remix show, despite the fact his WORK wheels greatly outweigh his RPF1's and reduce the mobility and acceleration of "Gina."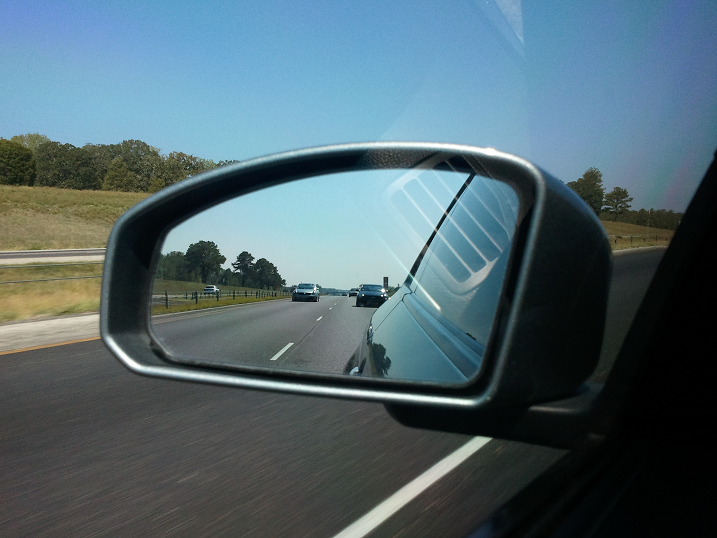 The trip through Conroe is somewhat smooth, except for the amount of construction that is going on on the North end. Still, the three of us trek carefully through the uneven pavement (definitely cannot be good for my negative camber), blown tires, semi-trucks, and gravel and hit open expressway. The rest of the trip is smooth, very minor traffic and the occasional shredded tires scattered throughout the HWY. I ended up hitting two of them on the freeway during the trip North. Part of the sacrifice going north, I guess.
We continue the trek north and the three of us receive thumbs up as we pass by others who break their necks our way, knowing the three of us are traveling together and headed to some sort of event up North. We even pick up an EX35 who travels behind us, more than likely just to maintain the same speed as us as we travel on I45. Despite it only being a pack of three of us, it brings a smile to my face knowing that we can still turn heads with a small fraction of members when we travel together. Along the way, we spy some very interesting things. A small bi-plane flies low overhead, practicing touch and goes at a nearby airfield. However, the most interesting thing we saw was an 18-wheeler hauling the cockpit of an airliner. Needless to say, the three of us didn't drive side-by-side with this thing for very long.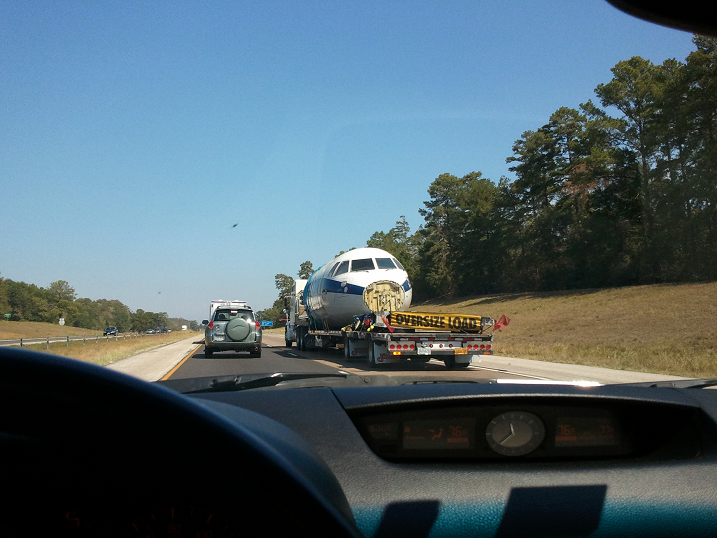 Normally, during these excursions, I normally have my windows up, A/C on, and music thumping to entertain myself on the road trip. But the weather was nice enough to offer the three of us a chance to roll with our windows down, cruising at 85mph down the highway. I must say that it was definitely a welcome change since it's been far too long since I was able to do such a thing without the wind feeling like a hot blow-dryer set to high.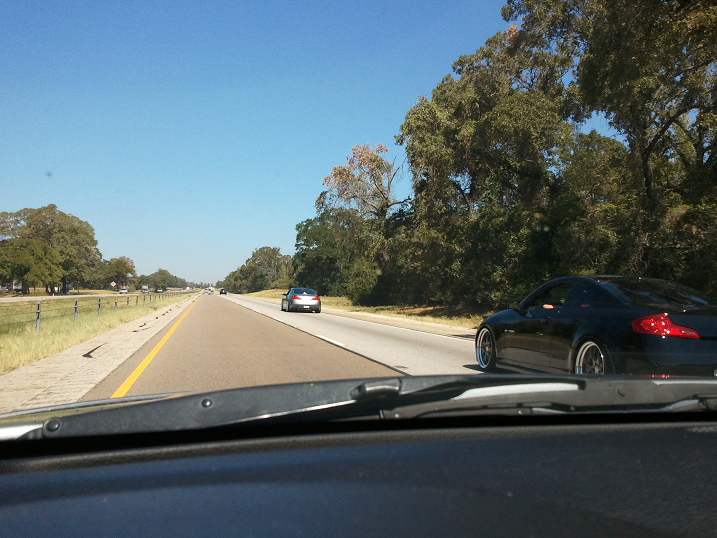 Finally, the three of us reach the south outskirts of Dallas. And this would be where both Hieu and Kevin would break off to catch their tour of Dallas stadium while I would continue north toward our hotel.
Dallas traffic is a mess, especially once I exit HWY 75 headed toward McKinny! Still, I trek on through and take whatever Dallas traffic can toss at me. I laugh in its face as soon as I hit Exit 36, knowing that I beat the traffic and I'm inching closer and closer to my final destination. Instead of heading straight toward the hotel, I opt to meet up with Ryan, Beth, and Ariel to grab some food since I didn't eat anything at all that morning.
Of course, Ryan being the fata$$ that he is, is at In-And-Out burger chowing down on a Double Double with fully loaded french fries. I arrive at the burger joint, realizing that the restaurant is not completely jam packed full, a rare sight since the lines are generally wrapped around the place, be it the drive through or the front doors. However, before venturing in to experience the nutritious balanced diet that I'm about to get, I survey the damage from the previous blown tires that I hit on the freeway during my journey. Just a few scuffs, nothing too bad.
After our meal, we're headed back to the La Quinta Inn where I check in and get settled into our rooms. A food coma hits me and I can't help but fall asleep for a bit before the arrival of Kevin and Hieu to the hotel. Gabe and Jason would also join us later, who have a special guest, Chris Black from DFW, with them.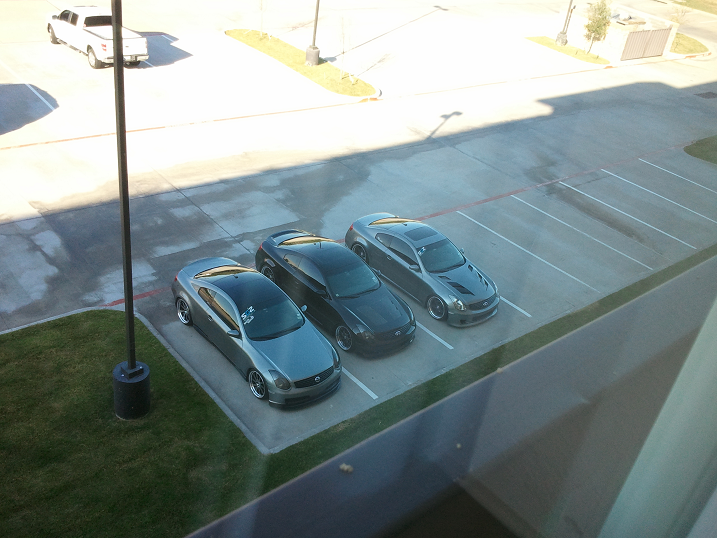 The Team finally gives out their hugs, hello's, and "great to see ya's," and after much deliberation, it is decided that we would head to Chris Black's home where we would do a quick rinse of our cars and just hang out for a bit in the evening. Gabe takes a detour to In-And-Out after hearing how incredibly amazing their burgers are. And I'm sure the food from that place would definitely help his serious case of hypertension.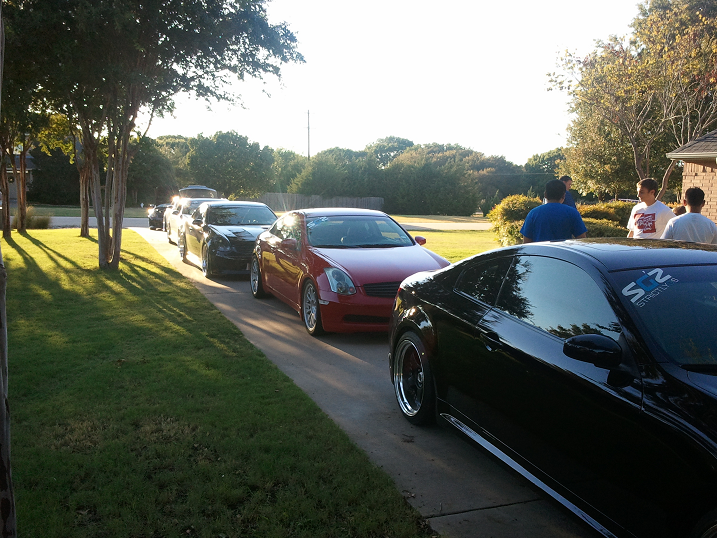 Seriously, how many people does it take to get a DeWalt pressure washer working?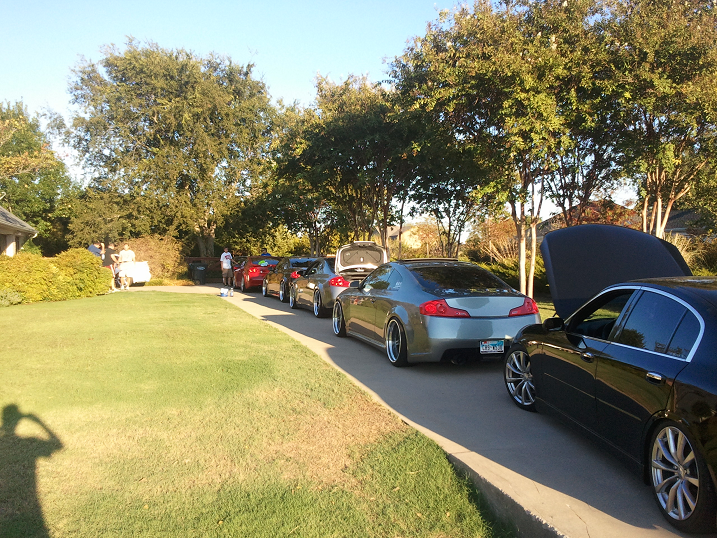 The evening at Chris Black's house comes to a close, as he finishes up cleaning his car for the event in the morning.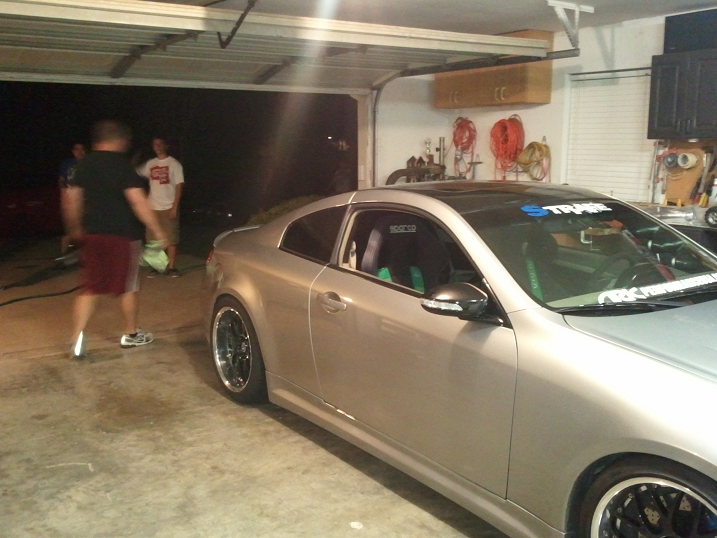 After the event at Chris Black's house, the rest of the other team FINALLY arrives. Despite the rest of the members arriving late, something that we're all used to, everyone is able to get settled in with showers, food, and a late night car wash that would eventually lead everyone back to Gabe's hotel around midnight for beer, liquor, 100-piece chicken nuggets, and late night laughter.
The trek up North was definitely worth this last moment as we all laugh in the night, consuming drinks and watching subtle Kevin disappear and drunk Kevin slowly make his emergence from the shadows. Josh is without a smile on his face as the laughter and jokes continue into the early morning. I'm the first person to retire for the night, so I can be prepared for an early morning. As I retire for the evening, I knowingly do so with the risk that I may wake up with a Sharpie drawn image of the male anatomy on my face. And even though that is a risk that I'm willing to take, I do it knowing that these are the memories that Strictly G's create with each other and we'll continue to speak of this weekend as we continue to grow and bond together as a family.